Flood Insurance for Your League City Home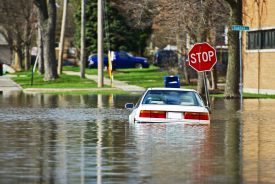 Flood damage can be devastating for any household, and the majority of flood losses are not covered by your standard home insurance policy. While the government has programs (FEMA) to help victims of natural disasters, it isn't wise to depend upon them to assist you. Though, regardless of whether you have insurance or not, you should apply for whatever aid you can get as it's there for that reason. And there is no better time than now, to start planning for hurricane season, so you are as prepared as you can be.
A typical flood insurance policy for your League City home (regardless of whether you have a single family dwelling home, condo or mobile home or even own a rental or are a renter) covers property and contents (the stuff in your home). Typically, the flood insurance policy premium depends upon the flood zone risk. So the higher likelihood for a flood (higher risk) the higher the premium.
However, just because you don't live in an area deemed as a flood risk, don't assume you can't get flooded. Talk to someone who was flooded in Hurricane Harvey in 2017 - we know that the huge majority of those folks didn't live in one of those zones likely to flood, and got flooded, and lost everything. Protect your home and your belongings with flood insurance.
Reminder, there is a waiting period for flood insurance, which means you must be insured for the waiting period prior to being able to file a claim. This prevents home owners from buying insurance the day of a flood.
Various flood insurance options:
Building, contents, replacement cost coverages
Different coverage options available
Standard flood insurance coverage
Optional excess flood coverage
Affordable rates
Flood insurance premiums options
Building coverage
Building coverage is designed to protect the structure of your home or business and cover appliances and other property items that are considered part of your property including air conditioners, dishwashers and cabinets. One way to think about it is, if you were to turn your home upside down, anything that is more permanent would be considered in this coverage. The items that would fall out (furniture, clothes, dishes) are considered contents.
Should you own another home that you rent out, this is the coverage you would want to consider for that rental property, unless you furnish the home as well. That is something you should discuss with your insurance agent.
Contents coverage
You will also want to consider coverage for your personal property as well, such as furniture and clothing. These are ideally your personal belongings, things that you would typically take with you when you move from your home. Should you not own your home, this is the only coverage you would need to consider.
We understand that your flood and homeowners insurance policies may be confusing with the various options and definitions so contact Harbour Insurance Services at (281) 520-4090 so we can get you insured with a flood insurance policy to protect your home and assets should the next storm flood your home.